Facial Thread Veins 
A cosmetic surgery method using Diathermy is very effective in the permanent removal of unsightly veins on the face.
| | |
| --- | --- |
| Facial Red Vein removal | £78.75 |
| Follow up consultation (no charge) |  Free |
Leg Thread Veins – Sclerotherapy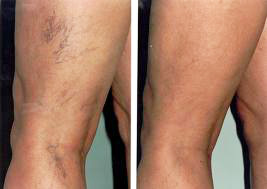 Injecting the unwanted leg veins with a sclerosing solution causes the target vein to immediately shrink, and then dissolve over a period of weeks as the body naturally absorbs the treated vein. Sclerotherapy is a non-invasive procedure taking only a few minutes to perform.
Sclerotherapy is the "gold standard" and is preferred over laser for eliminating large spider veins (telangiectasia) and smaller varicose leg veins. Unlike a laser, the sclerosing solution additionally closes the "feeder veins" under the skin that are causing the spider veins to form, thereby making a recurrence of the spider veins in the treated area less likely.
Diana and Mary have been carrying out these treatments since 1993 and work with our visiting doctor who authorises treatment to ensure the very best results.
| | |
| --- | --- |
| Sclerotherapy Treatment | £217.00 |
| Sclerotherapy Medical Approval (required prior to treatment) | £50.00 |
| Follow up consultation (no charge) | Free |