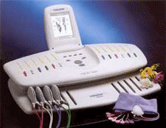 If you've always dreamed of a perfect body, it's time to wake up to the Slendertone miracle. Slendertone is the original body toning specialist and after 30 plus years they're still the best. Slendertone delivers visible results every time.
Light Workout – gentle exercise for slack muscle tone. It encourages the muscles to exercise and is the perfect introduction to stronger, more effective toning routines.
Gymbody Workout – the most popular toning programme, just one course will have a marked improvement on your figure.
Power Workout – active, sporty clients will benefit from this strong exercise. It will enhance the tone of trained muscles and improve stamina.
Postnatal Workout – this phased toning programme will help you regain body shape, strengthening abdominal and back muscles.
Cellulite Dispersal – the phased programme includes Detoxification allows the area being exercised to be massaged improving the circulation, thus aiding the loosening and removal of waste products that cause cellulite. The pumping action causes the muscles to contract deeply, improving muscle tone and facilitating the elimination of waste products and toxins through the lymphatic system. The relaxation phase stimulates the muscles gently to allow them to cool down gradually and avoid muscle fatigue.
Lymph Drainage – Slendertone's unique and highly effective dynamic channel sequencing will improve the flow of sluggish lymph. Healthy lymphatic systems aid bodily cleansing and detoxification processes and reduce fluid retention.
Painease – pain relief programme using the properties of the TENS (Transcutaneous Electrical Nerve Stimulation).
Relaxation – relax after a tense, stressful day by gently soothing the muscles.
| | |
| --- | --- |
| Slendertone Session | £32.00 |
| Slendertone Course of 10 | £288.25 |
| Slendertone introductory free session |  Free |