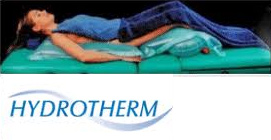 Imagine you are floating on a bed of warm water.You are about to experience a complete body massage – but you aren't going to turn over even once! Lying on two warm water cushions, kept at a pleasurable 37 degrees, you remain face up throughout the entire treatment.Your whole body is supported in perfect spinal alignment.The usual disruption of turning over halfway through your treatrment is avoided. The sensation of floating and the feeling of warmth envelops you…
The relaxing warmth of the Hydrotherm System promotes an immediate sensation of well being, enhancing the therapeutic effect of the massage.The gentle heat of the water helps to soothe painful areas allowing the Therapist to work more deeply with less discomfort for the client.
Hydrotherm involves a unique three-dimensional massage technique, which allows the therapist to slide their hands under, over and around the clients body in an uninterrupted motion. Through water displacement rather that through physically lifting the client, the Hydrotherm permits the therapist to work with the clients body weight as the source of pressure, facilitating a deeper, more holistic massage technique. Some people associate pain with depth when talking about a 'deep tissue massage'. But pain can be resistance to pressure not necessarily depth. We have all had that, 'yes, that is the spot', feeling when having a sports massage. With Hydrotherm massage you get the depth without the pain. Whilst lying in the supine, face up, position on the cushions your body is supported and relaxed taking away resistance but allowing depth to the massage.
| | |
| --- | --- |
| Hydrotherm Back Massage | £38.20 |
| Hydrotherm Full Body Massage | £60.25 |
| Hydrotherm Pregnancy Back massage | £38.20 |
| Hydrotherm Pregnancy Full Body Massage | £60.25 |