Guinot Eye Treatments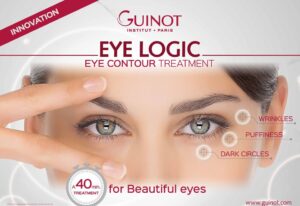 The Eye Logic Treatment is a contouring treatment that targets the very delicate eye area.
This 3 Step Treatment will help eliminate wrinkles, puffiness and dark circles around the eye area.
Eye Serum Gel Ionization
Helps drain puffiness around the eye
Decongestant dark circles
Smoothes away crows feet and frown lines
Eye Contour Massage
Tones skin
Lifts eye contour
Helps to drain and reduce puffiness and dark circles
Eye Contour Mask
A patented shaped eye mask which has pro- Collegen helps to treat the eye area giving firming and reducing fine lines and dark circles
| | |
| --- | --- |
| Eye Logic Single Treatment |  £   52.80 |
| Eye Logic Course of 3 |  £   150.35 |

DMK Eye Treatments
Brighten Your Looks! Get Rid of Wrinkles, Bags and Dull, Tired Eyes
Your eyes are probably the most noticeable feature of your entire body. Now, you can improve your whole appearance quite significantly with brighter, wrinkle-free, healthy-looking eyes. Whether you suffer from wrinkles, fine lines, puffiness and dark circles or simply have dull skin around the eyes, the DMK EYE FUSION Treatment will revitalize your appearance.
How DMK EYE FUSION Treatment Works
The EYE FUSION Treatment provides the nutritional elements, amino acids, proteins and vitamins needed to restore, strengthen and rebuild the delicate skin tissue around the eye.
Through the active ingredients contained in the powerful DMK formulas, the skin around the eyes is tightened and nourished to promote normal functioning and healthy skin.
DMK's unique serums for the treatment of pigmentation problems are used to eliminate dark circles around the eyes while a potent vitamin C formula is delivered directly to the skin cells to strengthen, tighten and promote firmer skin around the eyes.
The EYE FUSION Treatment is a once-off, in-salon treatment combined with a relaxing, soothing head massage while the powerful DMK formulas take effect on your skin. Amazing results can be seen on the first treatment but for longer lasting results, more than one treatment is recommended.
EYE FUSION Treatment Works For the Following Skin Conditions Around the Eyes
Weak, fragile and loose skin around the eyes
Dark circles
Fine lines and wrinkles
Puffiness
Sagging skin and bags under the eyes
Dull, tired-looking eyes
| | |
| --- | --- |
| Ultimate Eye Single Treatment |  £   52.75 |
| Ultimate Eye Course of 3 |  £   150.40 |