Guinot Eye Treatments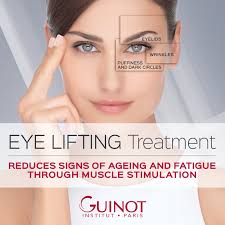 It is the ideal Treatment to reduce signs of ageing (wrinkles, sagging eyelids) and fatigue (puffiness, dark circles).
This Treatment reduces signs of ageing and fatigue in the eye contour area due to an exclusive Method: muscle stimulation.
THE EYES LOOK REFRESHED AND VISIBLY MORE YOUTHFUL.
Effects on signs of ageing
– Lines and wrinkles are smooth.
– The eyelids appear 'lifted'.
The eyes appear more open and youthful.
Effects on signs of fatigue
– Puffiness and dark circles are visibly reduced.
The eyes appear rested and radiant.
EYE MASSAGE
Eye Serum and targeted manual techniques help drain and boost the microcirculation to reduce puffiness and dark circles.
EYE MUSCLE STIMULATION
Muscle stimulation uses a microcurrent to work the muscles in the eye contour area. This phase, associated with the Gel Serum tightens the skin by restoring volume to muscles and drains puffiness and dark circles by boosting microcirculation. The 'lifting' effect is instantly visible: wrinkles in the corners of the eyes appear smoother and the eyelids appear 'lifted'.
EYE MASK
The GUINOT exclusive non-woven Mask smooths wrinkles in the corners of the eyes and between the eyes and visibly reduces puffiness and dark circles.
| | |
| --- | --- |
| Eye Lift Single Treatment |  £   64.00 |
| Eye Lift Course of 6 |  £   345.50 |

DMK Eye Treatments
Brighten Your Looks! Get Rid of Wrinkles, Bags and Dull, Tired Eyes
Your eyes are probably the most noticeable feature of your entire body. Now, you can improve your whole appearance quite significantly with brighter, wrinkle-free, healthy-looking eyes. Whether you suffer from wrinkles, fine lines, puffiness and dark circles or simply have dull skin around the eyes, the DMK EYE FUSION Treatment will revitalize your appearance.
How DMK EYE FUSION Treatment Works
The EYE FUSION Treatment provides the nutritional elements, amino acids, proteins, and vitamins needed to restore, strengthen and rebuild the delicate skin tissue around the eye.
Through the active ingredients contained in the powerful DMK formulas, the skin around the eyes is tightened and nourished to promote normal functioning and healthy skin.
DMK's unique serums for the treatment of pigmentation problems are used to eliminate dark circles around the eyes while a potent vitamin C formula is delivered directly to the skin cells to strengthen, tighten and promote firmer skin around the eyes.
The EYE FUSION Treatment is a once-off, in-salon treatment combined with a relaxing, soothing head massage while the powerful DMK formulas take effect on your skin. Amazing results can be seen on the first treatment but for longer-lasting results, more than one treatment is recommended.
EYE FUSION Treatment Works For the Following Skin Conditions Around the Eyes
Weak, fragile, and loose skin around the eyes
Dark circles
Fine lines and wrinkles
Puffiness
Sagging skin and bags under the eyes
Dull, tired-looking eyes
| | |
| --- | --- |
| Ultimate Eye Single Treatment |  £   65.65 |
| Ultimate Eye Course of 3 |  £   177.45 |